Production information
The PT-1699V(T) machine is suitable capacity range of 300gf, 600gf, 1, 2, 5, 10 ~ 500 kg for various materials of tensile; compression; bending; peel,constant tensile / constant compression / fatigue.... etc test.Machines is via USB line and control by computer, through servo motor operation and begin the test, after test is completed will automatically return to the origin, and software with WINDOWS XP / 7/8/10/11 operating system to direct printing.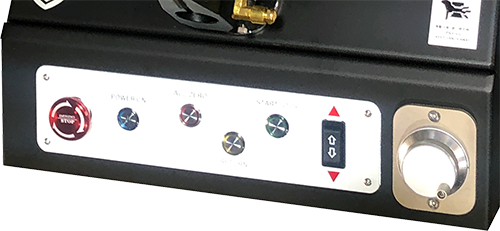 Feature
A variety of force units and the parameters of the test conditions and the parameters of test results report.

The user can set the report format and contents of the report of the test results.

Servo motor system, made in Taiwan components.

Servo drive system, made in Taiwan components.

High-precision force sensor, made in Taiwan components.

Bearings use made in Japan components.

Fine aluminum screw cover.

Surface precision plating and high class coating paint.

Fast connect head of gripper.

Timing belt, timing belt pulley.

No clearance ball screw, made in Taiwan components.HIWIN

Multi-force linear correction system, main controller use made in Italy components.

Safety protect include: Up & down limit safety setting restrainer , emergency stop button, strength and elongation program setting, and break point sensing of specimen.
Specifications
(表格可以拖曳)
| | |
| --- | --- |
| Model No. | PT-1699V(T) |
| Capacity | 300gf, 600gf, 1, 2, 5, 10, 20, 50, 100, 200, 500 kgf option any one. |
| Input Port | Load cell of 2 groups input; Extensimeter of 1 set input; power input; USB connection input. |
| Various Button Switch | Main power switch with lights and a fuse; power switch with lights; emergency stop button; up and down key; upper and lower limit restrainer; displacement pointer and scale. Cross-Arm Adj. Function Botton Start/Stop ; Return ; All Zero |
| Unit Switch | kgf , LB , N ; gf |
| Loading Precision | Under 0.5% of Full loading cell. |
| Strength Resolution | 1/200,000 |
| Strength Enlarges Time Rate | Single-stage automatic enlarge. |
| Displacement Resolution | 0.001mm by machine |
| Maximum Test Stroke | 700mm, include griper's length. |
| Distance from the center of gripers to the rear screw | 100mm |
| Motor | 400W , AC servo motor. |
| Test speed | 0.1 ~ 1000mm/min, computer sets up directly. |
| Speed precision | ±0.5% of Full Scale. |
| Dimensions | 45 × 57 × 112 cm. |
| Weight | 62 kg. |
| Power | 1P, AC220V, 3A, 50~60HZ. |
| Accessory | USB Signal cable x 1 and Computer program software x 1. |
| Option Purchase | Any kinds of test griper or fixture. |
| Customer-owned equipment | WINDOWS System 7/8/10/11 PC or Notebook and printer. |
Print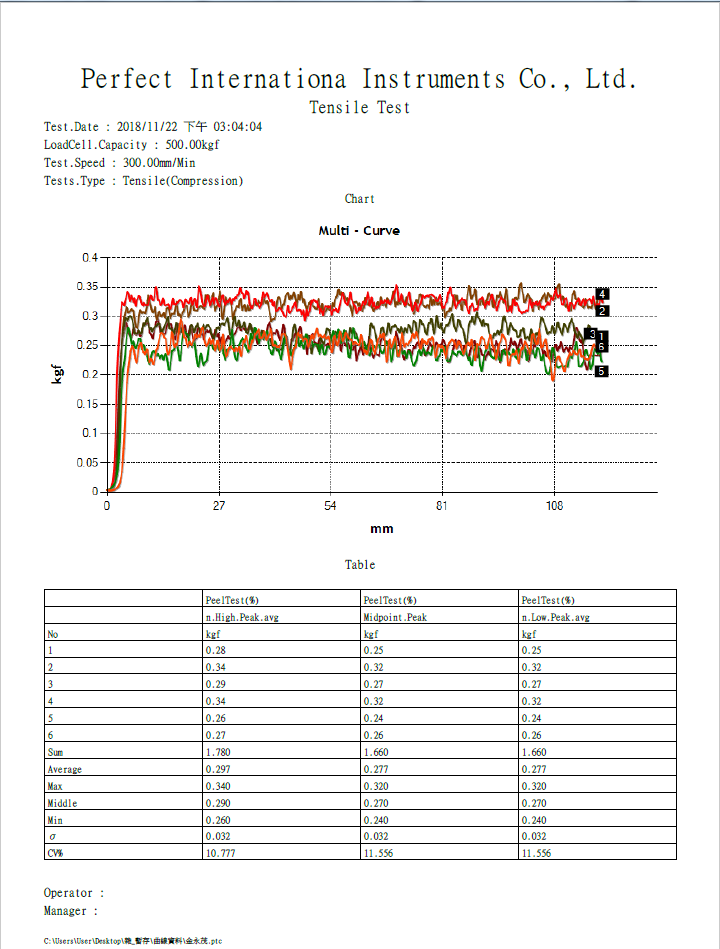 Software UI